We use affiliate links. If you purchase something using one of these links, we may receive compensation or commission.
Do you love the clean simple look of modern interior design style but can't decide between that and the warm rustic look of farmhouse?
Me too!
But did you know you can have both?
Modern Farmhouse blends the two together beautifully.  It's the style I'm loving in my own home now and I'm having a great time blending the two together.
Check out this post where I share my 8 Modern Farmhouse Decor Ideas you and your family will love.   Adding one or more of these Modern Farmhouse ideas will soon having you loving your home style and have all your friends and family asking how you did it!
So let's dive right in and start with our first of 8 Modern Farmhouse Decor Ideas.  The base of every room design.  The rug!
There are several different rugs I would use in a Modern Farmhouse design but I'm going to give you two of my favorite examples.
I absolutely love this look.  The texture and pattern in this grey and cream tribal rug is a great neutral backdrop for your Modern Farmhouse room.  I this exact rug in my living room and I love it.  It gives this room such a clean modern look while the texture makes my room cozy.  
Remember Modern Farmhouse is all about balancing those clean modern lines with your rustic and antique pieces.   To get my Ultimate Guide to Modern Farmhouse Design check out my post here.
The next rug is a simple modern rug.  It's a beautiful geometric pattern in greys, creams, and black.
Again I'm going with a neutral color scheme with an interesting texture and pattern.
I have this area rug in my Modern Farmhouse dining room and I love it.  
The materials you use for furniture and upholstery have big things to say in Modern Farmhouse style.
I try to stick with
Using these materials also helps me stay neutral in my colors.  Wooden tables with metal legs or base, a gorgeous leather sofa, or a soft washable slipcovered sofa will look amazing.
Here are some examples of furniture pieces that would work great in a Modern Farmhouse style home.
Mixing Wood and Metal
This wood and metal coffee table is so dreamy.  I have a similar coffee table in my living room but I like this even better.  The storage shelves below make this table the perfect addition to any Modern Farmhouse den.  
Get this table here.
Leather Upholstery
What's better than curling up on a cozy leather sofa?  This Mid-Century leather sofa is the perfect complement to a Modern Farmhouse living room or den.   The clean lines of this sofa look great with some boho pillows and the tribal rug.  
Get this awesome sofa here.
Farmhouse Dining Table
This rustic farmhouse table is a great way to ground a Modern Farmhouse dining room.  Its rough texture and metal accents give it an undeniable farmhouse style.  Pair it with mid-century chairs for a sleek Modern Farmhouse look.  
Get this gorgeous farmhouse table here.
Plants give your home life.  Whether you tuck plants in your builtins or in the corners of your rooms, they add color and vibrance where ever they are.
If you spend any time on Pinterest looking at Modern Farmhouse design, you will notice that almost all rooms have the addition of plants. Some faux and some real it doesn't really matter.  It's part of the signature Modern Farmhouse style.
Interested in more information on using plants to style your home? Check out my full post here.
Here are some examples of how you can use plants in your Modern Farmhouse rooms.
Give your bookshelves life.
Use varying heights and pots.
I live in a small town so finding potted house plants is not always easy.   
If you too live in a small town I would suggest Lowes Home Improvement for the best place to find some more common houseplants such as Pothos, Monstera, Snake Plant or a Peace Lily.
So I decided to try an online houseplants source.   I wanted to see if they indeed would make it to me healthy in good shape.  What do you know they arrived safe and sound!
This is exciting because there are several plants that I was dying to try but couldn't get here in my area.
I started with is thesill.com.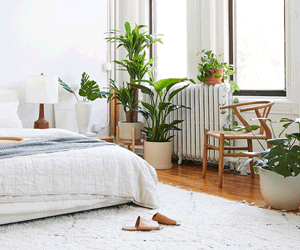 Here are a couple of easy care and beautiful houseplants that I would recommend for you to start with.
The Snake Plant
The Snake Plant is truly one of the easiest plants to grow. You don't need much light and you don't have to water them very often. A multitasker, the snake plant purifies indoor air by removing toxins such as formaldehyde, xylene, and toluene.   So if you are just starting out this plant is a great one for you!
Get growing tips and purchase the Snake Plant here.
ZZ Plant
The ZZ Plant has thick waxy green leaves. It is a great air purifying option that can tolerate low light, making it a perfect plant for beginners.
Medium to low indirect light
Water every 2–3 weeks
Get growing tips and purchase the Pothos Plant here.
Pothos
Give your home office an upgrade! The Golden Pothos and its quick-growing vines full of variegated green and white leaves will make any space look lush. It is a great low maintenance choice for beginners.
Medium to low indirect light
Water every 1–2 weeks
Get growing tips and purchase the Pothos Plant 
here
.
Ok humming right along now with number 4 in my 8 Modern Farmhouse Decor Ideas.
What art do you need to give your home that Modern Farmhouse Style?   First of all, we want to make sure to stay with – simple clean lines, natural materials, and neutral colors scheme.
Then we want to make sure that each piece is either rustic or modern in its style.
Here are some examples of art that I would choose for my Modern Farmhouse home.
Modern Abstract Art
This Modern abstract piece would look great in a Modern Farmhouse home.  It gives just the right amount of texture and a neutral color scheme to give interest to your room.
Get this artwork piece here.
Farmhouse Metal Coffee Sign
The simple cleans lines of this coffee sign scream farmhouse.  I actually just bought this for the lake house that I'm working on.  More to come on that soon.  It would look adorable over a coffee station.
Get this Farmhouse Sign here.
Round Wooden Mirror
I'm stuck on round mirrors right now.  But who could blame me?  They are stylishly simple and add a great statement to any room.  I'm showing this one in a wood frame since I just bought it for over my mantel in my living room.  It looks amazing on my newly painted charcoal fireplace.
Get this awesome mirror here.
Throw pillows are simply one of my favorite parts of a room to style.  I love mixing together the colors, textures, and patterns to come up with something beautiful.  I'm going to share with you my tips and tricks to getting the perfect throw pillows for your room.
Pillow Inserts
First up I make sure to use Down inserts in my pillows.  They look and feel so much more luxurious. There are a couple of places you can find down pillows inserts but the best value is definitely IKEA.  You can get:
20×20 for $7.00
16×20 for $8.00
26×26 for $10
You really can't beat the quality for the money.
So with those sizes in mind, let's find some awesome pillows to use with them.
Pillow Inserts
If you've read my blog for long you know that I can't stand to pay full price for anything.
To me, there is always another way.
Also if you have looked for pillows lately you know that they are really expensive.
So the objective here to is find great pillow covers in amazing fabrics without breaking the bank.
My two favorite places to find these pillow covers are Amazon and Etsy.
Get this adorable set for only $28.50 here.
Not only do they have some amazing priced and quality pillows but some of the vendors with put 4 different patterns together in the same color scheme so you don't have to figure that out on your own.
How cool is that?
This can get expensive on Etsy so you'll have to do some research to find the best vendors.
Check out these beautiful pillow covers from Rainy Day Devine, LLC on Etsy.
You can easily pick on the ones you love and mix and match them together to get an amazing designer look.  
One last thing – Make sure to get the pillow cover two inches smaller than the insert so that your pillows will be full and look great.  
For instance, if you buy the 20×20 insert at IKEA then get these pillow inserts in 18×18.
#6 – Fireplace Mantle Styling
Now for number 6 in our 8 Modern Farmhouse Decor Ideas.
Is there anybody out there that doesn't love a cozy fireplace?  If I have to live in a state with winter weather then I have to have a fireplace.
Since remodeling our current house, I have been able to paint out our large brick fireplace and install a giant reclaimed wood mantel and gas logs.  It gave our fireplace mantel just the right amount of Modern Farmhouse style.
How do I get that look?
gather the Modern Farmhouse decor items that you want to use – Finding at least one small piece and a few smaller pieces.
create your vignette with a tall anchor as you see in the photo above.
then add filler and layers to give your vignette depth and texture.
For a full explanation of how to style your fireplace mantle check out my post here.
Steps to a well designed Modern Farmhouse bookcase
1.  Start by gathering all your items into one area. 
Go around your house looking for things that fit into your color scheme and the style you are going for in your room.
Lay everything out so I can see it all, which is key.
2.  Start with the largest pieces.  
Sometimes your bookcases will determine where these pieces go.  As you can see in the picture above, my living room bookcases are taller in the top section so I need larger pieces there.   
A pro-tip that will make it much easier to get the height you need is to use books stacked underneath another piece to make it taller.
3.  Bring In Some Artwork
This step can help you bring in a little color if that is the feel you are going for when styling your Modern Farmhouse bookcase.  
Since I was going for a more neutral color scheme I used black and white pieces with a mix of greenery for an organic feel.  
I like to prop my artwork pieces in the back of the bookshelf and layer other things beside and overlapping.  It helps to have some small pieces to layer and stack.
4.  Bring in your books!  
You don't have to use books.  It's perfectly acceptable to use your bookcases to display a collection of whatever you love.  It is your home, after all.  
I have a definite love for antique books.  Love the texture, and love the history of them.  We have collected some books from the 1800s and that's really cool for me.  Here is another thing, I think the paper side of the books is super cool so I display my books both ways.
5.  Bring in your decorative pieces
The next step when styling your modern farmhouse bookcases is to bring in personal pieces that mean something special to you and your family.  
Sculptural pieces that you collected on vacations that bring back memories from that trip.  
Mix it up.  Now that you have books and art you have paper.  Bring in the metal, wood, concrete, and glass pieces.  
The more personal the better.
6.  Add some plants.  
Like we said above plants add life to a room. So why not add them to your bookcases.  
My favorite types of plants for bookcase styling is a mixture of trailing plants like and small succulents.  I love how the trailing plants hang down over the sides of the display and you can stick small succulents around for a layered look.
7.  Edit. 
Stand back and take a look at your newly styled modern farmhouse bookcase masterpiece.  
I always end up moving a few pieces around when I consider color, texture, etc.  You don't want two plants together or two similar pieces of art or metal in the same area.  This will help you to create a sense of balance.  
Try not to make everything symmetrical.  Your bookcases will look way too staged and unnatural.
For more in-depth details on how to style your bookcases check out my full post here.
Now for our number 8 Modern Farmhouse Decor Idea.  
As I've said before, I love the styling part of decorating a room.  The hardest part is putting together pieces of your life and then adding some decor so that it looks natural and a reflection of your family.
For instance,
Antique pieces you've found over the years
I've collected pieces that I've found over the years that I just love and no matter which decor style I end up with they always make it in.  Like this old wooden box.  I'm using it by my fireplace right now to hold firewood.  
A collection of your favorite books candles and a plant
I've grouped some of my favorite coffee table books, a giant candle, and a plant to give my coffee table texture and interest.
Group together some beautiful pottery
Pottery is something that I've collected for years and it's making a huge resurgence in the design world right now.  So if you have a collection that's been gathering dust get it back out and display it in a new and interesting way.
I hope this post has given you some inspiration to get your own Modern Farmhouse style going.  
If you are not sure what style you are take my Interior Design Style Quiz to make sure you are on the right track to get the home you've always dreamed of.  
Love,